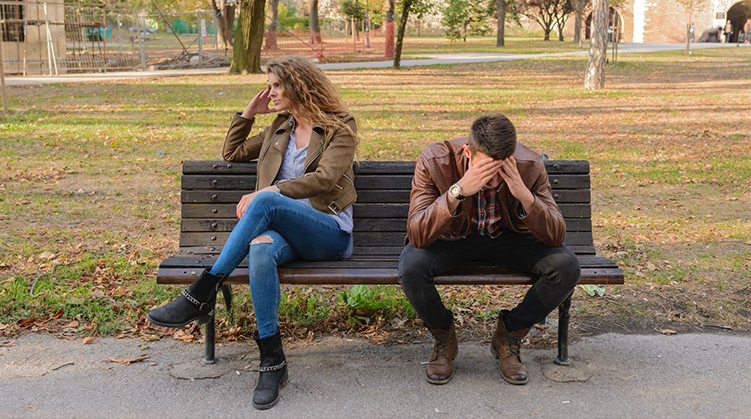 Affair / Cheating
An affair can be a romantic and/or emotional interaction with someone other than your spouse or partner, sex does not need to be involved to be considered as an affair. Cyber affairs can occur between two individuals who have not even met in person. Affairs can leave the effected spouse with feelings of anxiety, betrayal, confusion, depression, low self esteem, self blame, PTSD, and issues preforming at work. An individual may engage in infidelity for reasons including depression, ending the current relationship, low self esteem, lack of emotional intimacy, or sex addiction. Sometimes affairs can end relationships and sometimes relationships can be repaired.
A therapist with knowledge in affairs/cheating will use a wide range of approaches to reach a mutually beneficial outcome for everyone involved. Some of these methods include individual counseling, couples/marital counseling, family counseling, substance abuse counseling, addiction counseling, meditation, and spiritual/religious counseling. The therapist will not necessarily focus on one individual as the issue but rather a wide range of concerns that contributed to the infidelity.
Codependency
Codependency is an emotional or psychological reliance on a partner, whom requires support from an addiction or account of an illness. Codependency can begin during an individuals childhood. An example is when an individual feels that their main purpose in life consists of making extreme sacrifices to satisfy their partner's needs and wants. A therapist may want to meet with both partners involved in a codependent relationship. During treatment for codependency individuals will learn how to set clear boundaries and stick by them. It is important that partners learn how to care and accept themselves first before engaging in a relationship.
Divorce
Individuals going through divorce guilt or fear as well as experience symptoms of anxiety, depression, and grief. Divorce counseling can be divided between Pre-Divorce and Post-Divorce Counseling. Pre-Divorce counseling can be utilized for couples who wish to finalize their decision to divorce. The therapist may discuss with the couple where they are at and where they wish to be. It can also be beneficial to couples who need to learn how to communicate during the process of a divorce or even after, especially for those couples with children. The therapist will discuss when it is necessary to inform the children about the divorce and how it will be explained. This is very important as it can help reduce the potentially traumatic effects a divorce can sometimes have on children.
Post-Divorce Counseling can be used along with Pre-Divorce Counseling but most people seek this out when they have been struggling with the divorce process and wish to make it easier. Since the process of a divorce is sometimes the end of a long-term relationship it can be difficult for a couple to redefine what they have been into what they will be in the future. It is also important to sort through many emotions and not be directed to an individual(s).
Therapy can be in the form of individual counseling, couples counseling, and family counseling.
If you are struggling with a divorce, one of our therapists could be a good fit to help during a very difficult time. Our therapist will work out a treatment plan which could include Cognitive Behavior Therapy (CBT), meditation, learning self-care and self-worth, and guided breathing exercises.
Marriage Counseling
Marriage counseling can help couples in all types of relationships – regardless of their sexual orientation or marriage status. Often times couples may seek counseling to improve their partnership and gain a mutually better understanding of one another. Premarital counseling is also a method used by couples to go through counseling prior to getting married. The therapist can help the couple understand each other and sort out difficulties or differences that they could experience while being married. An other case couples may seek marriage counseling can be to mend a troubled relationship.
Marriage counseling can be used by individuals to help with other specific issues, including:
Affair/Infidelity
Anger
Blended family issues
Communication issues
Conflicts about child rearing
Sexual difficulties
Substance abuse